April 27th, 2011: Last night's Machine of Death Talent Show was super great! It was a packed house and the acts were hilarious and amazed EVEN ME. We'll try to get as much as we can of it online, for those who missed it! Here's a taste, "Prevenge" by Matt Bixler:
And at the end of the show we took the opportunity to announce something that we're all really excited for, a little thing called, oh I don't know,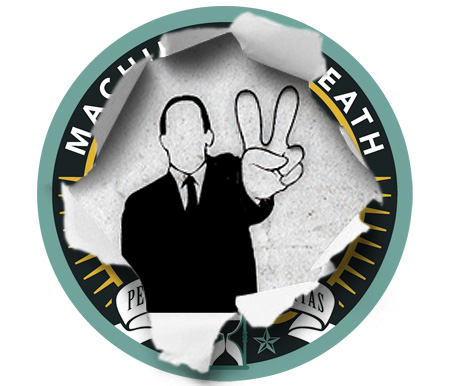 MACHINE OF DEATH 2
Did you like the book and wish you'd heard about it when we first solicited stories, half a decade ago? Are you an artist who wants to illustrate a picture in which FOLKS MIGHT DIE OR CONSIDER THEIR OWN MORTALITY AT LEAST?? Are you excited to read more stories in the Machine of Death Universe, exploring all the things we didn't in the first book? I hope the answer to each AND/OR ALL of these questions is "yes", because oh man, I am SUPER EXCITED for this!
We're taking submissions from May 1st to July 15th. Just like last time, we don't care who you are or if you've never written anything before, we just care that your story is awesome. These are open submissions, and I've said before that I've got the most talented readers in the world. This is your chance to impress us, to impress everyone, and to have your work reach a huge audience! The last book showed the world the power of the internet to make awesome things happen, sold five thousand copies in a single day, and went straight to the #1 position on Amazon.
Hey. I think we can do better.
Submission guidelines here! And if you haven't read the book yet, here's a complete PDF copy!
---
YOU LIKE TO READ: Probably, huh? Well GOOD NEWS: my book To Be or Not To Be (choose-your-own-path Hamlet!) is in the new Humble eBooks Bundle! Up to FIFTEEN books at a pay-what-you-want price, plus you support charity (and artists)! Definitely worth checking out, if you ask me.

NEW SHIRTS: As you may have noticed, I've spent the past all this year coming up with a new shirt design every month. Then I sold them for two weeks only! But now they're BACK... for two weeks only. Check them out! There are some PRETTY FRIGGIN' AWESOME shirts here. There's also a new one about dating, kinda?
One year ago today: if you are about to argue that a story can be made worse by the addition of a robot suit, i would advise you to first ask yourself, "is what i am about to argue EVEN POSSIBLE??"
– Ryan