Dinosaur Comics
Okay so here is the exciting news! There is a new Dinosaur Comics book. Unlike the older books which were self-published by, um, me, this book is being published by the fine ladies and dude at Quack!Media! This is good news because it means the book is super high quality and professionally bound and, most exciting, is also available both online and in real live stores! Kapow! Here's a list of stores the book can be found in. If you're a bookstore stocking the book and I haven't listed you here, please let me know!
The book is called "The Best of Dinosaur Comics: 2003-2005 AD" and has all my favourite comics from that time period. The "AD" is because, you know, dinosaurs. The subtitle is "Your Whole Family is Made out of Meat" and there's some meat on the cover, but you can still order it if you're a vegetarian. The book is about 250 pages long, and it's now available for sale! You can order it direct from the publisher by clicking on that last phrase. You can also get the book on Amazon.com! You can find it clicking on this Amazon link
, which also gives me a bit of a cut of your purchase, which is nice! The book's ISBN is 0-7560-0518-3 and its UPC code is 781444920016, which you won't need to know unless you're a bookstore wanting to order copies!
The book is gorgeous and it has an introduction by Joey Comeau of A Softer World. It looks like this: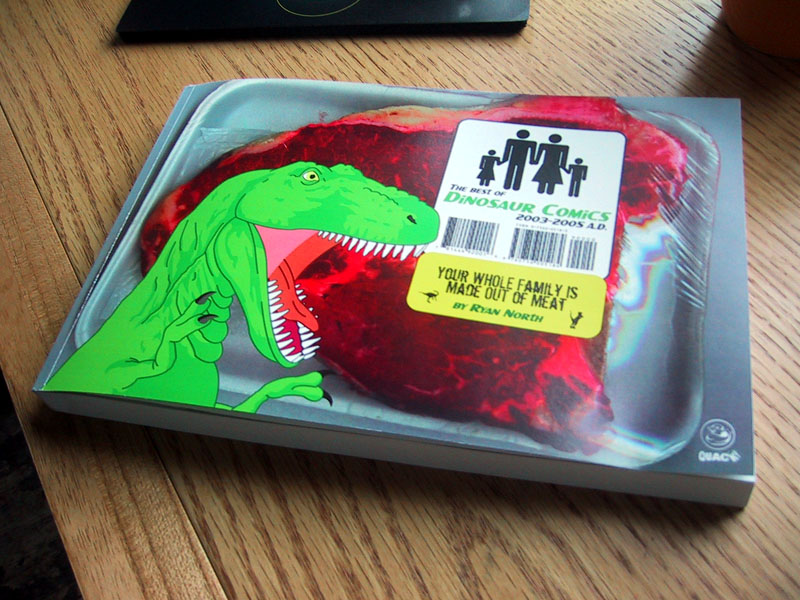 And when you open it, it looks like this!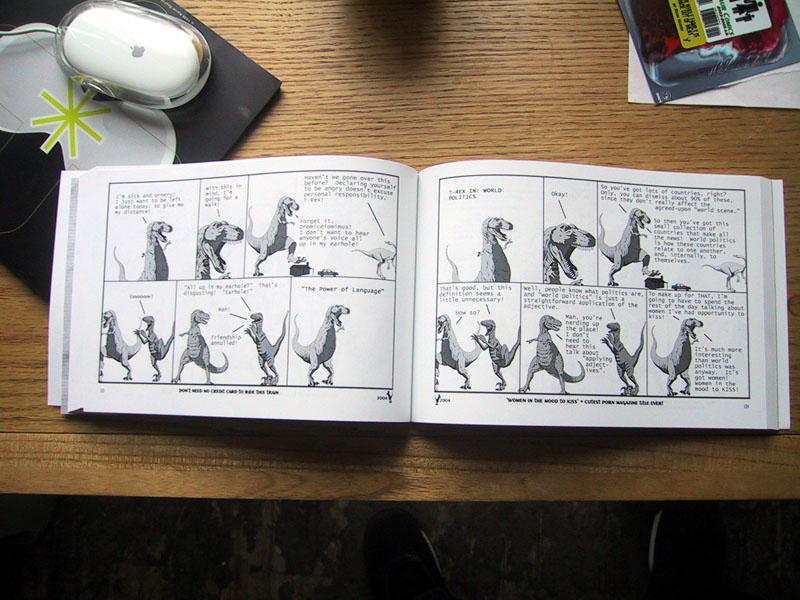 And when you open it just a little bit, it looks like this!

And here is my book for sale at the grocery store!

I hope you love it. You can order the book by clicking below:
The Best of Dinosaur Comics: 2003-2005 AD
$14.99 USD
Buy now!
---
But wait, there's more!
---
Remember this comic, from which my book takes its title? In it, T-Rex writes a book for children, called "Happy Dog the Happy Dog". Well, here it is!
It is drawn by Allene Chomyn and written by T-Rex or maybe me! It is 16 pages of adorable adventure and startling morals, printed in full colour throughout. It is a stand-alone book that can be enjoyed even by those who have never heard of dinosaurs! It is not actually for children? It is yours for $10, shipping included!
Happy Dog the Happy Dog
Canada/US
$10.00 USD
Happy Dog the Happy Dog
Everyone Else
$12.00 USD
---
Also whoah let's not forget cards!
---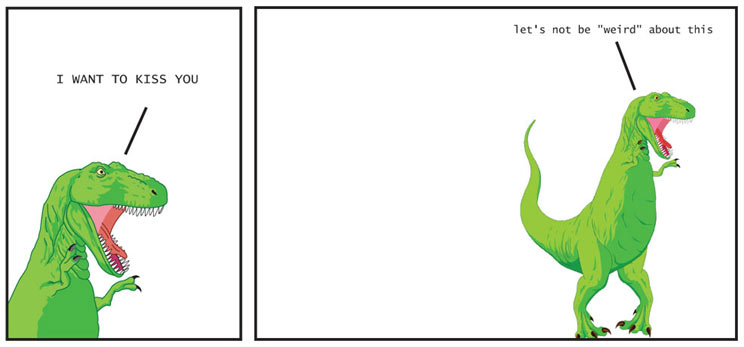 You can also get REAL GREETING CARDS that you can use when you what to greet someone or if they get pregnant. They are available from Quack Media, who also publish my book, and you can find them right here!
---