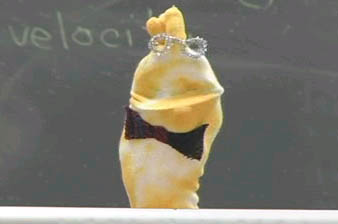 THINGS THAT DON'T EXIST
EXCELLENT REMIX CONTEST

You're (hopefully) familiar with the Things That Don't Exist video that Jason Eppink and his friends made! It's really great and also EDUCATIONAL, and sites like Metafilter have been kind enough to link to it. It was (a little) inspired by a Dinosaur Comic I wrote. The song and video are released under the Creative Commons license, which means of course that it is time for an Excellent Remix Contest.

THE CONTEST:
Remix, cover, or somehow use the material presented in the Things That Don't Exist comic, video, song, lyrics or sheet music to make something new and unique. The choice of medium is entirely up to you! It could be an out-of-genre mashup or a Flash video or maybe a dance or SOMETHING EVEN CRAZIER.

THE SOURCE MATERIALS:
You've got the comic (PNG format), the video (Quicktime format), the song (MP3), the lyrics (HTML), and the sheet music (MUS format) and anything else you can find that's available.

THE POLITICS:
Creative coauthorship with people you've never met is a pretty great thing!

THE WINNERS!:
This contest was special, I think, because of all the different media used in the entries! Check it out. You can click on the pictures for each to download the remix.
Award for Most Scholarly Entry: Daniel Hsu's Conference Paper

Jason says: I like to imagine Daniel's paper was Professor's dissertation. Very clever!
Ryan says: Daniel Hsu managed to condense all possible things that don't exist into one equation. Amazing!
Daniel wins: The Professor puppet and dinosaur stickers!
Award for Most 1980s Nostalgia: Brad Westness's Remixed Video

Jason says: This made me happy that the 1980s is one of the many things that doesn't exist (anymore)!
Ryan says: I liked the kid with the watermelon head, because I had never seen that before and hey, that could exist in probably ANY time period.
Brad wins: Brad is awarded Blue because the puppet reminds me of the 80's: too much neon and spandex.
Award for Most 1930s Nostalgia: Raziel Lafleur's Olde-Tyme Radio Broadcast

Jason says: Classic! I really love the tone Raziel establishes here. Gee willikers this sure is swell!
Ryan says: I submit that any comic could do with a old-time radio drama version. This is a great play to huddle around the 5-valve Philco shortwave and listen to!
Raziel wins: The Theodore puppet and dinosaur buttons!
Award for Combining The Most Formats: Mario Panighetti's List Formatted Song

Jason says: Simple and elegant fusion of two memes. Originally not even intended as an entry, so I hear!
Ryan says: This combines the song, which incorporates the comic, and is fused with the fun songs in list format idea I accidentally invented last month. Big ups!
Mario wins: Dinosaur stickers!
Award for Holy, A Text Adventure: Nick Matteo's Text Adventure!

Jason says: What a fabulous, fabulous idea! Existential, even. Make sure when you play to try and interact with pi.
Ryan says: Nick submitted two versions: the first, and a "bug fix" in which one can no longer interact with the last digit of pi that doesn't exist. I think both are pretty surreal! You'll need a ZMachine interpreter such as WinFrotz (Windows) or Zoom (Mac) to play, OR, you can message user "rodnuk" the phrase "ttde" on AIM to play over instant messanger!
Nick wins: Jean Val Jean, puppet extraordinaire! And buttons!
Award for Using Only Sound Recorder to Remix: Tommy Dumouchelle's Lo-Fi Remix

Ryan says: I can only assume this is what music will sound like in 100 years. Tommy used Sound Recorder and office supplies in making this remix
Jason says: I imagine Tommy wears all black, writes beat poetry, frequents underground coffee shops, and snaps his fingers instead of clapping. This is some pretty sweet...er, I mean PROFOUND, DEEP...sound art.
Tommy wins: Selima the puppet!
Award for Comics? On the Internet?!: Kit Buckley's Remixed Comic

Jason says: Anachronisms! I bet T-Rex forgot that dirty words didn't exist back then either!
Ryan says: Kit tries to fix my comic, but it's impossible. My comic is BROKEN. A study on authorship in a land of continuity!
Kit wins: Dinosaur stickers!
Award for Most Use Of Toys In A Video: Kari Collins' Remixed Video

Ryan says: There is some fast-paced stop motion in this video.
Jason says: Utahraptor's confusion and voicing is PRICELESS! I smell a spin-off comic series: T-Rex's Adventures in the Land of Things That Don't Exist!
Kari wins: Goth, the goth puppet!
Award for Whatever, Man: Jai Salzwedel's Email

Ryan says: Jai's entry consisted entirely of the text "The attached file is my entry to the Things That Don't Exist remix contest. I hope you enjoy! Jai", but there was no attachment to the email. When I wrote him back to tell him he forgot to attach the file, he said, "Didn't I?" :0
Jason says: I loved Ryan's confusion over the incident. Creative!
Jai wins: The puppet Jai is awarded doesn't exist, but the copy of Space Rex he gets will!
Award for Surreal And That Is Scary: Aaron Cripps' Remixed Comic Video

Jason says: Oh man! Aaron is awarded Sunshine because the puppet has pink rings around his eyes - clear evidence that he's been under the influence of chemical substances. Just like Aaron MUST have been when creating this awesomely trippy piece!
Ryan says: This video is basically the comic looking crazy while Jason screams. A nice piece. It haunts my nightmares!
Aaron wins: Sunshine the puppet and dinosaur stickers!
Award for Hey, A Real Song!: Daniel Wilkes' Megamix

Jason says: Very, very cool! I never would have thought to take it in this direction, but it really works! HIP! Just like Rasta Dude.
Ryan says: I love my out-of-genre covers songs, and this takes the song and puts it in an entirely new genre. Therefore: love!
Daniel wins: Rasta Dude, the puppet, and a Space Rex print!
Grand Prize Award for Best Idea Ever: Christopher Manley's ThingsThatDontExist.com

Ryan says: Amazing. Chris found a way to change this from a one-month contest into a lifelong calling. ThingsThatDontExist.com is a collaborative site where anyone can submit a thing that doesn't exist! Brilliant.
Jason says: I'll admit it: I freaked out when I heard about this one. SO AWESOME. Maybe we can finally compile that exhaustive list! Come on everybody! Pitch in!
Chris wins: Mobjylgingho the puppet! He also wins a Dinosaur t-shirt of his choice. Thanks Chris!