October 26th, 2010: Here you go: a sequel comic to the one five years ago, to celebrate the book finally coming out! Hooray!
TODAY is Machine of Death day, you guys! If you're at all interested in the book, I'm asking that you buy it today, as we're trying to make it Amazon's bestselling book for one day: today. As of right now (7:30 am EST) it's at number 24 (UPDATE: 12th place at 8:00 am and Amazon's cut the price to less than $10! YOU SHOULD BUY THIS BOOK) (UPDATE 2: 5th place at 10:00 am! And if you buy the physical copy, we'll send you a Kindle version for free) (UPDATE 3: 2nd place at 11:23 am! SO CLOSE, will YOU put us over the top?) (UPDATE 4: as of 1pm, we're now the #1 selling book on Amazon. THANK YOU, everyone!! This is totally amazing.) on Amazon's bestselling list. It only takes a couple hundred sales to make this happen: if we keep this up we'll be number one in no time! Thank you, everyone! WE CAN TOTALLY DO THIS.
David's put the first 40 pages up here, so there's a preview for you too.
Buy our book maybe?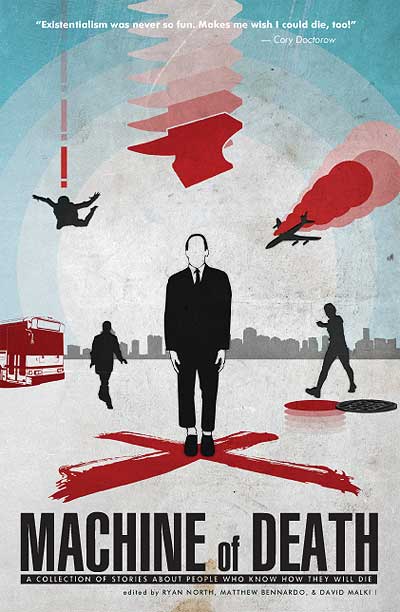 One year ago today: whatta park
– Ryan