October 25th, 2010: HEY SPEAKING OF FRIENDSHIP (THIS BOOK I'M ABOUT TO TALK ABOUT WAS MADE BY SOME FUNTIME PALS)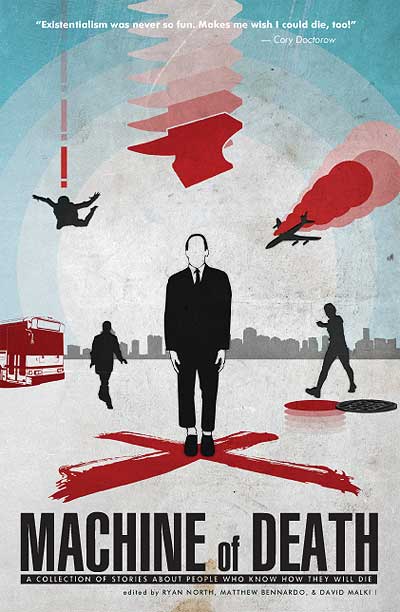 A few years ago I wrote a comic about a machine that could tell you how you were going to die. Five years later, thanks to the tireless efforts of David Malki and Matt Bennardo, a collection of short stories based on the premise is FINALLY HERE. It took a long time, but the book is terrific: we had over 700 submissions and we got them down to 30 excellent stories, and then we said, you know what, let's make this even better and add illustrations for each of the stories too. So now we've got an anthology of stories by the likes of Randall Munroe and Yahtzee Croshaw and tons more great writers and also ME, with illustrations by people like Kate Beaton and KC Green and so many more. It may seem like I'm just pulling awesome people out of a hat, but in reality, they're all in this book.
Anyway, while you can order the book today, we're asking you to hold off till tomorrow, Tuesday, the 26th of October. If we all buy it on that day, we can probably make it Amazon's best-selling book that day. That's what we're shooting for. It should only take a hundred of us.
Malki said it better than I can, so you should go here and read these words!
One year ago today: Never a better time for a minced friggin' oath than now, Utahraptor!
– Ryan